with Anne, Judy and Ellen, 2/5/00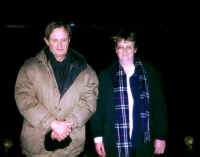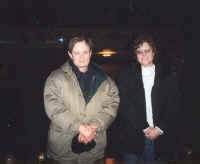 Ellen: "Let's do the pictures on stage," he suggested. Great! ... We could see out into the seats and spotted where we sat. Around us were some props - a golden chair, the pillows Mozart lies on, a table. We were thrilled and told David so. He said "Ok, who's first?" and after a moment of hesitation, I volunteered. He stood next to me and Judy took the picture. ...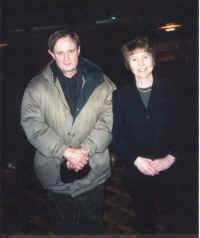 Right before Judy snapped, David fixed his hair a bit (maybe he was worried about hat head? I bet he knew he'd be on the web page!) "Who's next?" he asked, and Judy handed off her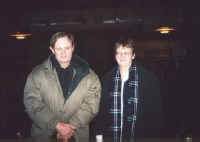 camera to me. ... Then Judy took a picture of David and Anne with Anne's camera, but Emperor Joseph commanded she take another with her camera because he thought there might be some red-eye. ... I told him there was one more picture left in the camera, and he said "Well, save it for the Empire State Building." There was a bit of a smile behind that. He told Judy she had a good camera, so I asked what kind it was and she answered "Olympus." "That's what I have," he told us, "but a different model."