New York Magazine
Caesar Salad
by John Simon
Free 'Julius Caesar' in the park is the usual hodgepodge (but a godsend after 'The Winter's Tale')
There is a tendency to view Julius Caesar as good high-school Shakespeare, but it is much better than that, even if those who remember its previous Public Theater production may not think so. It is a fine thing, thoughtfully assessing of the mixed, even self-contradictory nature of its four principles: Caesar, Mark Antony, Brutus, and Cassius. If we recall the powerful performances of Louis Calhern, Marlon Brando, James Mason, and John Gielgud in those roles in Joe Mankiewicz's movie version, we expect something comparable from a condign stage production.
The good news from Central Park is that this Caesar is more bearable than The Winter's Tale that preceded it; the not-so-good news is that it is at best a mediocre traversal of a tough track, clearing most of the hurdles but establishing no new records. Still, this is a production where free admission is not too high a price to pay.
True, the set by Narelle Sissons, featuring, against graffito-bedecked cement blocks, elaborate but ugly scaffolding, a huge, crane-suspended gold head of Caesar with a little of little Caesar heads underneath, and a colossal severed hand (a monument to Titus Andronicus?), is a bit bizarre. Even more so when, the Caesar head having been dumped, the unjustly murdered Cinna the poet is hoisted upside down on that crane by the bloodthirsty mob to provide a spectacular but dragged-in-by-the-heels closer for Act One. Angela Wendt's costumes are a farrago of every place and period, sometimes even straying to the properly Roman. But Donald Holder's versatile lighting highlights or envelops as required, and John Gromanda's music properly pulsates, insinuates, or inundates.
Barry Edelstein's staging is awash with inventions, some good, some highly questionable. I could have done without the two soothsayers being gender-bent, one into a shrieking, vaguely Oriental witch, the other (supposed to be Artemidorus) into a schoolgirl lesson reciter. Nor would I have missed such anachronisms as a modern book, hip flask, telescope, and traffic barrier. And I seriously doubt that Roman warfare resembled tai chi. But I was grateful for fluidly continuous action, frequently inventive blocking, and despite cuts, feel for the text.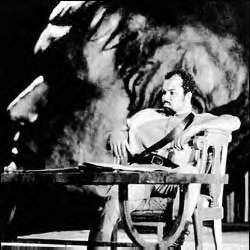 Sometimes too much so. Most modern editors (e.g. T.S. Dorsch, W. and B. Rosen, etc.) consider the two-fold announcement of Portia's death a printer's mistaken inclusion of Shakespeare's initial and revised versions; Edelstein might well have eliminated the former. I myself would also have forgone Brutus and Cassius's mutual hand-kissing at their final parting.
None of the actors evinces psychological subtlety or incisiveness, but at least the character's primary flaws and clearly there: the aging Caesar's debility, Brutus's misplaced idealism and subsequent political and strategic errors, Cassius's envy and sense of inferiority, and Antony's opportunism and ruthlessness.
David McCallum does not do much for the some-what underwritten part of Caesar but dies grandly; Jamey Sheridan would be a better Brutus if he could convey a little more nobility and introspection; Dennis Boutsikaris has nimble diction and agile deportment but, when he should grow in stature, shrinks into a scuzzy pipsqueak; Ritchie Coster is an interesting Casca, here misspelled as "Caska" (perhaps as an allusion to the bibulousness this production attributes to him.)
The most touted performance is the Mark Antony of Jeffrey Wright, best remembered as the gay hospital nurse of Angels in America and his movie roles in Basquiat and Shaft. He manages the great funeral orations impressively, if not without some undue bombast; for the rest, a pigeon-toed Antony speaking in a faintly campy drawl -- and throwing away the climactic epitaph for Brutus -- is rather problematic. If a minority actor for Mark Antony was deemed necessary, why not the pop idol Marc Anthony? That would have been a real coup.